Grey Hen Events and Update
NEW BOOKS
Of Some Importance
The new chapbook Of Some Importance – a celebration of women who have left their mark on the world – is now out. At only £6 it's a real bargain! and makes a great gift.
Reflected Light: responses to the creative arts
The new anthology Reflected Light: responses to the creative arts is now out and going like hot cakes! (see 'Books' page). In these altered times, no actual launch events can be set up, but watch the events page for a virtual (Zoom) event.
Alternatives to public launches and readings
Since the publication of Measuring the Depth in March 2020, Covid has put a stop to all public launches and readings
Further launch readings from Reflected Light are planned as Zoom events. Many thanks to Hermione Sandall, Anne Stewart, Veronica Aaronson, Lindy Newns, Jane Monach, Hamish and Rebecca and Fran Reader for keeping us going so far!
There was some press interest – in June, Cumbria Life did a feature on Grey Hen Press and in July Magma 77 ('Act Your Age') featured an article about Grey Hen in the form of a conversation between Joy Howard and Christine Webb.
Online events – Joy spoke at the Magma  launch on 18th August. There were many very positive responses. On the same evening, as Grey Hen had been allocated a slot at the cancelled Teignmouth Festival in March, Teignmouth Poets devoted an evening to a celebration of  Devon-based Grey Hen poets: 'Grey Hens Give Voice'. Many thanks are due to Jennie Osborne for organising this event.
Grey Hen Poetry Competition 2021
is for women over 60. Poems up to 40 lines on any theme. Judges: Merryn Williams and Pat Winslow.  Prizes: £100, £75, £25. Download rules and entry form from website or send sae to Grey Hen Press, PO Box 269, Kendal, Cumbria LA9 9FE. Closing date: 30 April 2021. Entry Fee £3.00 per poem, £10 for four. www.greyhenpress.com
Recent books
Measuring the Depth: Poems about Lakes
The second in a series of Grey Hen chapbooks on the theme of landscape.
Out of Context:  An Anthology of 'Found' Poems
The literary equivalent of a collage, 'found' poems take existing texts and refashion them. Words, phrases, and sometimes whole passages from other sources are reframed, thus imparting new meaning. Sometimes humorous, sometimes deadly serious, all these poems make a telling point.
Further Than It Looks: Poems about Mountains
The first in a series of Grey Hen chapbooks on the theme of landscape.
And don't forget this not-so-recent book with an unfortunately relevant theme:
Get Me Out of Here!  Poems for Trying Circumstances
Click on 'BOOKS' to order online.
Email: info@greyhenpress.com
Postal address:  PO Box 269, Kendal LA9 9FE.
.
HEN RUN 
Hen Run is Grey Hen's chapbook imprint.
'Hen Run gives older women an opportunity to get their work published. The project is unfunded and not for profit, so the deal is that I select submissions, edit, and prepare manuscripts for publication. Authors are responsible for printing costs, and for subsequent publicity, readings, and the bulk of sales, though the chapbooks will be featured on the website. The usual high production quality that Grey Hen has maintained applies!
As with Grey Hen, I'm limited with how much work I can take on so there isn't an open submissions policy. I will follow up any recommendations – but if you are recommending someone else, please contact me yourselves in the first instance for a discussion. For example, two excellent poets have been recommended to me who are well into their 70s and need to have a leg-up onto that first rung of the publication ladder. I am happy to consider proposals from Grey Hens who fit the criteria – also those who may have a particular sequence or group of poems that doesn't fit easily into a collection.'     Joy Howard
Hen Run publications include Gill Nicholson's The Buoyancy of Space, Joan Poulson's Tequila & Shooting Stars,  Shoal Moon by Anne Boileau and Water Colour by Hilary Elfick – many more to follow!
You can find all the Hen Run books, and how to order them, by following the 'Hen Run' link on the Grey Hen homepage.
.
Rosemary McLeish   
 It was with great sadness that I heard of the death Rosemary McLeish.She had been a Grey Hen contributor from the first anthology A Twist of Malice, and her brave, funny and generous poems have featured in many Grey Hen anthologies since. A recent poem appears in Reflected Light, due out soon – a poem that itself reflects Rosie's particularly Glaswegian touch for empathy and humour, and speaks for her special place among Grey Hens. Very much herself, as always, and she will be much missed.    
August 2020
.
GREY HEN SUPPORTS UK YOUTH CLIMATE COALITION
FROM THE UKYCC WEBSITE:  "SPECIAL THANK YOU – POETRY SPEAK OUT"
"On Sunday the 23rd of June, a Climate Catastrophe: Poets Speak Out event was held in Cumbria in partnership with Grey Hen Press which brought together poets from the North of England to share their creative contributions to the climate crisis.
 The event itself featured 10 poets and an almost full house. Despite the serious nature of climate change, the event ended up being a full of chat, laughter and inspiration.
The event was predominantly attended by the older generation, but there were young people present and the link between old and young was clear to see, with the older attendees in full support of the work of young people.
The event raised a total of £105 through entry fees, and a further £36 via a raffle, all of which was chosen to be donated to UKYCC.
UKYCC were so happy to hear about this event, as it brings together the creative arts and climate change in a community format which is not only inspiring and empowering, but shows the plethora of ways in which we can all come together, old and young, for climate change action! – Eilidh Robb, UKYCC Press Contact
​If you are interested in organising a similar event, get in touch with us at hello@ukycc.org. We would love to hear about it and link you up with those who have experience. "
.
.
Grey Hen's 10th Birthday Party
In April 2018 Grey Hen held a 10th anniversary celebration (it is actually 11 years old, but I couldn't fit the celebration in in 2017!) in its new home base of Cumbria, with a workshop, readings and a 'proper do' with afternoon tea and a wonderful birthday cake (made by J'aime Cakes, Cumbria).  In the evening we had an informal read-around – relaxed, sociable and fun.  Thanks to all who took part.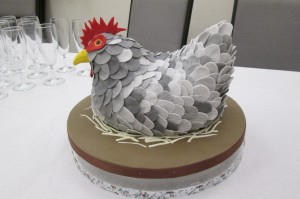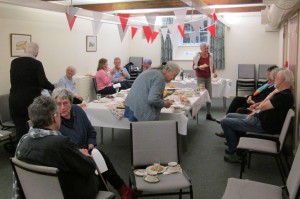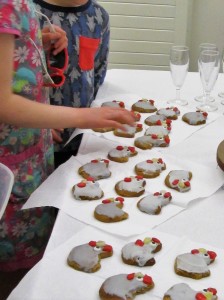 Other 10th Anniversary Events
Glasgow Women's Library. Readers were A C Clarke, Joy Howard, Mandy Macdonald, Anne B Murray and Sheila Templeton, and poems from all eleven of the Grey Hen anthologies were included. Readings there are always a treat, but this was something else. The library staff told us it was the largest audience ever for one of their monthly lunchtime events – we were struggling for space! but it was really a remarkably happy and successful event, great atmosphere and encouragingly good book sales (we ran out of several titles). Some of the comments: 'I enjoyed this event to a great extent. I want to experience it again and again!'  'Really enjoyed day with readings and background to poetry. Also a great variety of poems.'  'A great and uplifting event'.  'Loved this, thought-provoking and enjoyable. Very good mixture of very fine poems and readers.'  'What were the best bits? Too many to mention.'  'I wish that when I was young at school, being forced to read and remember poems, that there had been the delight of the words, themes and ideas brought by the poets we heard today. Most enjoyable!'
We look forward to our next trip to Glasgow!
Sale Library.  Julia Deakin, Susanna Harding, Joy Howard, Janet Loverseed and Frances Nagle read poems from all the Grey Hen anthologies  at Sale Library.  A great afternoon at Sale Waterside – lovely and accessible venue and helpful staff. Not one of our largest audiences, but a very engaged one. We all enjoyed ourselves thoroughly and will be coming back!Lit and Phil, Newcastle. With Joy Howard, Meg Peacocke, Katrina Porteous and Fiona Ritchie Walker.  
The Lit and Phil in Newcastle is a lovely place to hold poetry readings, and we had a really appreciative audience. It's getting harder to find an opportunity to hear Meg Peacocke read, and we were so pleased she could make it. Such a pleasure too to have local poet Fiona Ritchie Walker, and that unrivalled celebrator of Northumberland life and language, Katrina Porteous. What a great line-up!
York Library with Carole Bromley, Joy Howard, Pauline Kirk, Thelma Laycock and Josie Walsh.  A lot of poets and a lot of fine poems! Selections from all the eleven Grey Hen anthologies made for a lively and varied reading. A warm and appreciative (almost capacity) audience in a lovely room at York Explore (Central Library) helped make it a memorable afternoon. Special thanks to Thelma Laycock, standing in for Helen Burke, who was unfortunately unable to join us on the day.
Reading Central Library. With Wendy Klein, Gill Learner, Susan Utting, Jean Watkins and Christine Webb. Reading Library is a welcoming venue, and we were delighted to return for this very special Grey Hen reading. Wendy Klein was the MC, and she was well supported by local poets Gill Learner and Jean Watkins. They were joined by Susan Utting and Christine Webb. Thanks to all for contributing to a memorable day.
Transitions, Outlook Variable and Shades of Meaning launch at  Glasgow Women's Library. Group photo, left to right:  A C Clarke, Mandy Macdonald, Sheila Templeton, Eleanor Livingstone, Anne Murray and Joy Howard.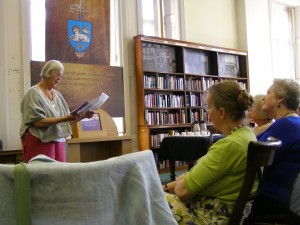 First Hen Run launch, Harris Library, Preston. Gill Nicholson and Joan Poulson read.
PLEASE SUPPORT YOUR LOCAL LIBRARY AND THESE INDEPENDENT BOOKSHOPS  – they regularly stock our books, and hold Grey Hen readings.
Glasgow Women's Library  19-23 Landressy Street, Glasgow G40 1BP  0141 550 226 www.womenslibrary.org.uk
Queens Park Books  87 Salusbury Rd, Queens Park, London NW6 6NH  www.queensparkbooks.co.uk
The Limpsfield Bookshop,  High Street, Limpsfield, Oxted RH8 0DS   01883 714 034
Wenlock Books  12 High Street, Much Wenlock, Shropshire, TF13 6AA  01952 727877 www.wenlockbooks.co.uk
Yellow-Lighted Bookshops  21 Church St, Tetbury, Gloucestershire GL8 8JG
01666-500221  and  17 Fountain Street, Nailsworth, Gloucestershire GL6 0BL
01453-832555  www.yellow-lightedbookshop.co.uk
The Book Case  29 Market St, Hebden Bridge, West Yorkshire HX7 6EU   01422 845353
www.bookcase.co.uk
The Edge of the World Bookshop 23 Market Jew Street, Penzance, Cornwall, TR18 2HR  01736 365607  www.edgeoftheworldbookshop.co.uk
GREY HENS AT LARGE 2019 (update pending)
Sheila Aldous had a Hen Run chapbook out in August, Patterns of All Made Things
Anne Boileau won 2nd prize in the George Crabbe Memorial Competition 2019 and had another commended, and had a poem published in ArtemisPoetry this Spring. Her first full collection is Dreams of Flight a collaborative venture with artist Belinda King (Orphean Press 2019). Anne will be reading from this at the Aldeburgh Poetry Festival, with Kate Foley and Antony Johae, in November.
 Carole Bromley won the Hamish Canham Award 2019. She has a new collection The Peregrine Falcons of York Minster coming out in 2020 from Valley Press
Maggie Butt had a poem long-listed in the National Poetry Competition. She adjucated the Barnet, Ware and Segora competitions and has had a novel accepted by an imprint of Penguin Random House.
Debjani Chatterjee won one of the Hedgehog Poetry Press competitions and was a runner-up in another. The prize was publication of a micro-pamphlet – her second from this publisher – and the publication of a full collection next year. In June 2019 she was inducted as a Fellow of the Royal Society of Literature.
Alison Chisholm's latest collection Echoes in Cloud was published in July 2019. For every copy sold, a donation is given to Queenscourt Hospice, Southport.  July also saw the publication of The Poet's A-Z, a glossary with exercises for the working poet, which is a compilation of articles that first appeared in Writing Magazine.
 Chris Considine has a new collection out from Cinnamon Press. Seeing Eye , in part about her very successful cataract operations.
Rose Cook had a Hen Run chapbook out in June, Sightings.
Doris Corti helped her U3A poetry group publish a book of their poems, Poems from the Third Age. Her memoir Muffins for Tea covering the decade 1939 to 1949 is being prepared for publication.
Julia Deakin now edits Pennine Platform and warmly welcomes submissions for Issue 86 details at www.pennineplatform.com
Hilary Elfick has a third Hen Run chapbook This Is What Happens due out in October 2019.
 Elsa Fischer ' As You Set Out' from Hourglass (Hen Run chapbook 2018) was selected by Carol Rumens as Poem of the Week in The Guardian 18.02.19.
Caroline Gilfillan won the Yeovil Poetry prize 2019 and been awarded second prize in the Suffolk Poetry Society competition for this year. Her first novel, The Terrace, was published in 2018.
Geraldine Green is currently Writer-in-Residence at the Quaker Tapestry Museum, Kendal, Cumbria, tutoring creative workshops. For further details see www.quaker-tapestry.co.uk
Mimi Khalvati has a new collection Afterwardness, a book of Italian sonnets, out at the end of October from Carcanet Press. It is a Poetry Book Society Winter Wild Card.
Angela Kirby has had poems published or accepted in Morphrog, London Grip, ArtemisPoetry, The London Magazine and Domestic Cherry, plus a new book from Shoestring Look Left, Look Right.
Jane Kite will be performing from Phobia and the Girl at the Ilkey Festival Fringe this autumn. www.ilkleyliteraturefestival.org.uk/whats-on/fringe-festival. This work is due to be published in book form.
Alison Mace has a first collection Man at the Ice House (The High Window) which should be out before the end of the year.
 Gill McEvoy won a Highly Commended in the recent Candlestick Press competition for poems about snow. Her poem will appear in the forthcoming pamphlet.
Katrina Porteous' third collection Edge will be published by Bloodaxe in October 2019. She is currently sharing a residency (with Phoebe Power) on the East Durham Coast for the National Trust Peoples Landscapes programme and the Durham Book Festival 2019.
Eveline Pye was shortlisted for the Aurora Prize.
 Elisabeth Rowe's fourth collection Timewise will be published this month (Sept 2019) by Oversteps Books.
Anne Stewart's fourth poetry collection, The Last Parent, came out in April 2019 (Second Light Publications). Read sample poems and see readers' comments at Anne's website www.annestewart.me.uk
Christine Webb will be giving a Breakfast Talk the Aldeburgh Poetry Festival in November.
Merryn Williams has a New and Selected from Shoestring The Fragile Bridge, and she has written an updated version of a Jane Austen novel, Mansfield Park Revisited, available from York Publishing Services both as paperback and ebook