Grey Hen Events and Update
NEWS
NEW!
The first in a series of Grey Hen chapbooks on the theme of landscape:
Further Than It Looks: poems about mountains
Available shortly.
Click on 'BOOKS' to order online.
Email: info@greyhenpress.com   Postal address:  PO Box 269, Kendal LA9 9FE.
.
.
.
GREY HEN SUPPORTS UK YOUTH CLIMATE COALITION
FROM THE UKYCC WEBSITE:  "SPECIAL THANK YOU – POETRY SPEAK OUT"
"On Sunday the 23rd of June, a Climate Catastrophe: Poets Speak Out event was held in Cumbria in partnership with Grey Hen Press which brought together poets from the North of England to share their creative contributions to the climate crisis. 
 The event itself featured 10 poets and an almost full house. Despite the serious nature of climate change, the event ended up being a full of chat, laughter and inspiration. 
The event was predominantly attended by the older generation, but there were young people present and the link between old and young was clear to see, with the older attendees in full support of the work of young people. 
The event raised a total of £105 through entry fees, and a further £36 via a raffle, all of which was chosen to be donated to UKYCC. 
UKYCC were so happy to hear about this event, as it brings together the creative arts and climate change in a community format which is not only inspiring and empowering, but shows the plethora of ways in which we can all come together, old and young, for climate change action! – Eilidh Robb, UKYCC Press Contact
​If you are interested in organising a similar event, get in touch with us at hello@ukycc.org. We would love to hear about it and link you up with those who have experience. "
.
.
HEN RUN 
Hen Run is Grey Hen's chapbook imprint.
'Hen Run gives older women an opportunity to get their work published. The project is unfunded and not for profit, so the deal is that I select submissions, edit, and prepare manuscripts for publication. Authors are responsible for printing costs, and for subsequent publicity, readings, and the bulk of sales, though the chapbooks will be featured on the website. The usual high production quality that Grey Hen has maintained applies!
As with Grey Hen, I'm limited with how much work I can take on so there isn't an open submissions policy. I will follow up any recommendations – but if you are recommending someone else, please contact me yourselves in the first instance for a discussion. For example, two excellent poets have been recommended to me who are well into their 70s and need to have a leg-up onto that first rung of the publication ladder. I am happy to consider proposals from Grey Hens who fit the criteria – also those who may have a particular sequence or group of poems that doesn't fit easily into a collection.'     Joy Howard
Hen Run publications include Gill Nicholson's The Buoyancy of Space, Joan Poulson's Tequila & Shooting Stars,  Shoal Moon by Anne Boileau and Water Colour by Hilary Elfick – many more to follow!
You can find all the Hen Run books, and how to order them, by following the 'Hen Run' link on the Grey Hen homepage.
GREY HEN POETRY COMPETITION 2019
 The 2019 Grey Hen Poetry Competition 2019 has now closed, results by 30th June.
Grey Hen's 10th Birthday Party
In April 2018 Grey Hen held a 10th anniversary celebration (it is actually 11 years old, but I couldn't fit the celebration in in 2017!), in its new home base of Cumbria, with a workshop, readings and a 'proper do' with afternoon tea and a wonderful birthday cake (made by J'aime Cakes, Cumbria).  In the evening we had an informal read-around – relaxed, sociable and fun.  Thanks to all who took part.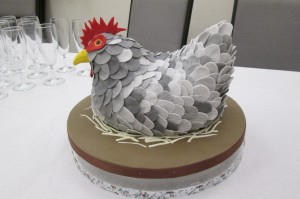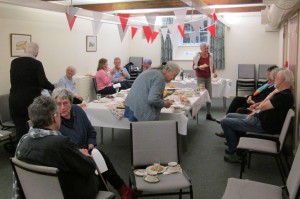 EVENTS
__________________________________________
22nd June 1-2.30pm at  Central Library, Reading . A reading from Vaster Than Empires with Wendy Klein, Gill Learner and Christine Webb.
13th June  6.30-8pm at Kenilworth Books 12 Talisman Square CV8 1JB. A reading from Vaster Than Empires with Ann Alexander, R V Bailey, Joy Howard and Judith Priestman.
28th May  6 -7.30pm at Blackwells University Bookshop, Aberdeen. A reading from Vaster Than Empires with Mandy Macdonald and Margaret Wood. Plus music from Intuitive Music Aberdeen and readings by The Apothecaries group.
16th November Friday 7.30-9pm.  Final launch reading of 2018 from the Grey Hen Press anthology Songs for the Unsung   at The Poetry Café, 22 Betterton St, London WC2H 9BX.  Featuring various contributors to the anthology reading their own poems and other selections from the book. All welcome!
1st November  A West Yorks launch reading from Songs for the Unsung at Hebden Bridge Library, Cheetham St, Hebden Bridge HX7 8EP. With Julia Deakin, Joy Howard and Char March.
16th October  A Welsh launch reading from Songs for the Unsung at The Friends Meeting House, Page St, Swansea SA1 4EZ. With RV Bailey, Ann Drysdale and Stevie Krayer.
9th October A South Yorks launch reading from Songs for the Unsung at Writers in the Bath, The Bath Hotel, 66 Victoria St, Sheffield S3 7QL. With Joy Howard, Jane Monach, Kate Rutter and Josie Walsh.
16th September  A South West launch of Songs for the Unsung in Devon at Ashburton Arts Centre West Street, Ashburton TQ13 7DT With Rose Cook, Jennie Osborne, Elisabeth Rowe and Susan Taylor.
 8th September   A Manchester launch of Songs for the Unsung at Manchester Central Library. With Rosemary Doman, Susanna Harding, Joy Howard, Janet Loverseed and Lindy Newns.
20th June. A Midlands launch of Songs for the Unsung at Kenilworth Books, Kenilworth, Warwicks. With Ann Alexander, Joy Howard, Merryn Williams and Pat Winslow. 6.30 – 8pm
26th May. A Scottish launch of Songs for the Unsung at Blackwell's University Bookshop, Aberdeen. With A C Clarke, Joy Howard and Mandy Macdonald 3.30 – 4.30 pm. Followed up with a reading by Joy Howard from her most recent collections Refurbishment and Foraging 6-7pm.
20th April Sam Read's Bookshop Grasmere presented a reading of selections from all the Grey Hen anthologies at the Tithe Barn, Grasmere with R V Bailey, Ann Drysdale, Kate Foley, Joy Howard and Meg Peacocke.
14th April 
Reading Central Library hosted a 
launch reading from 
Songs for the Unsung
 with Gill Learner, Wendy Klein, Jean Watkins and Susan Utting.
6th March North West launch of the new Grey Hen anthology Songs for the Unsung at Kendal Library with Joy Howard, Jo Peters and Patricia Pogson .
15th February  Grey Hen at Cork International Poetry Festival 2018  It was good to be invited to put on a Grey Hen reading at this event, and Julia Deakin, Angela Kirby, Char March and myself thoroughly enjoyed showcasing the press at the Festival. We read a selection of poems from all the anthologies: as usual, including our own work and that of others from the books. We all had a great time – making a holiday of it, listening to lots of poetry and exploring lovely Cork City.  https://www.corkpoetryfest.net/
Grey Hens at Solstice 2018  Stevie Krayer's Sleeping Out, Mandy  Macdonald's Gloaming  and Joy Howard's Factory were all among poems chosen for the Arachne Press DUSK event on the Winter Solstice, featuring 50 poems, songs and other short pieces being read in different locations across the country, following dusk from north to south. Stevie's poem was performed in Nottingham and Holyhead, Mandy's in Ellon and Joy's in Carlisle, Lancaster and Ellon. See https://arachnepress.com/solstice-shorts/dusk-solstice-shorts-2017/
2017 was Grey Hen's 10th anniversary year, with a series of celebration readings 

across the UK from all eleven anthologies:
 7th November 10th anniversary celebration reading in Hebden Bridge with Doris Corti, Julia Deakin, Jo Haslam and Char March. Hebden Bridge Library.
19th November  10th Anniversary celebration reading in N London with Maggie Butt, Wendy French, Katherine Gallagher, Ruth Smith and Anne Stewart. Torriano Meeting House, London NW5.
28th September  10th Anniversary celebration reading at Woodbridge Library with Anne Boileau, Hilary Elfick, Sylvia Fairley, Kate Foley and Angela Kirby.
16th September  10th Anniversary celebration reading in Bristol at Bordeaux Quay with R V Bailey, Ann Drysdale, June Hall, Joy Howard, Ruth Sharman and Pat Simmons.
27th July 10th Anniversary event at the Glasgow Women's Library. Readers were A C Clarke, Joy Howard, Mandy Macdonald, Anne B Murray and Sheila Templeton, and poems from all eleven of the Grey Hen anthologies were included. Readings there are always a treat, but this was something else. The library staff told us it was the largest audience ever for one of their monthly lunchtime events – we were struggling for space! but it was really a remarkably happy and successful event, great atmosphere and encouragingly good book sales (we ran out of several titles). Some of the comments: 'I enjoyed this event to a great extent. I want to experience it again and again!'  'Really enjoyed day with readings and background to poetry. Also a great variety of poems.'  'A great and uplifting event'.  'Loved this, thought-provoking and enjoyable. Very good mixture of very fine poems and readers.'  'What were the best bits? Too many to mention.'  'I wish that when I was young at school, being forced to read and remember poems, that there had been the delight of the words, themes and ideas brought by the poets we heard today. Most enjoyable!'
We look forward to our next trip to Glasgow!
8th July
 10th Anniversary event in Sale.  Julia Deakin, Susanna Harding, Joy Howard, Janet Loverseed and Frances Nagle read poems from all the Grey Hen anthologies  at Sale Library.  A great afternoon at Sale Waterside – lovely and accessible venue and helpful staff. Not one of our largest audiences, but a very engaged one. We all enjoyed ourselves thoroughly and will be coming back!
13th June 10th Anniversary Celebration reading at the Lit and Phil, Newcastle. With Joy Howard, Meg Peacocke, Katrina Porteous and Fiona Ritchie Walker.  The Lit and Phil in Newcastle is a lovely place to hold poetry readings, and we had a really appreciative audience. It's getting harder to find an opportunity to hear Meg Peacocke read, and we were so pleased she could make it. Such a pleasure too to have local poet Fiona Ritchie Walker, and that unrivalled celebrator of Northumberland life and language, Katrina Porteous. What a great line-up!
29th April 10th Anniversary Celebration reading in York with Carole Bromley, Joy Howard, Pauline Kirk, Thelma Laycock and Josie Walsh.  A lot of poets and a lot of fine poems! Selections from all the eleven Grey Hen anthologies made for a lively and varied reading. A warm and appreciative (almost capacity) audience in a lovely room at York Explore (Central Library) helped make it a memorable afternoon. Special thanks to Thelma Laycock, standing in for Helen Burke, who was unfortunately unable to join us on the day.
11th March  10th Anniversary Celebration event at Reading Central Library. With Wendy Klein, Gill Learner, Susan Utting, Jean Watkins and Christine Webb. Reading Library is a welcoming venue, and we were delighted to return for this very special Grey Hen reading. Wendy Klein was the MC, and she was well supported by local poets Gill Learner and Jean Watkins. They were joined by Susan Utting and Christine Webb. Thanks to all for contributing to a memorable day.
Transitions, Outlook Variable and Shades of Meaning launch at  Glasgow Women's Library. Group photo, left to right:  A C Clarke, Mandy Macdonald, Sheila Templeton, Eleanor Livingstone, Anne Murray and Joy Howard.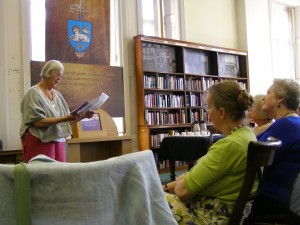 First Hen Run launch, Harris Library, Preston. Gill Nicholson and Joan Poulson read.
PLEASE SUPPORT YOUR LOCAL LIBRARY AND THESE INDEPENDENT BOOKSHOPS  – they regularly stock our books, and hold Grey Hen readings.
Glasgow Women's Library  19-23 Landressy Street, Glasgow G40 1BP  0141 550 226 www.womenslibrary.org.uk
Queens Park Books  87 Salusbury Rd, Queens Park, London NW6 6NH  www.queensparkbooks.co.uk
The Limpsfield Bookshop,  High Street, Limpsfield, Oxted RH8 0DS   01883 714 034
Wenlock Books  12 High Street, Much Wenlock, Shropshire, TF13 6AA  01952 727877 www.wenlockbooks.co.uk
Yellow-Lighted Bookshops  21 Church St, Tetbury, Gloucestershire GL8 8JG
01666-500221  and  17 Fountain Street, Nailsworth, Gloucestershire GL6 0BL
01453-832555  www.yellow-lightedbookshop.co.uk
Brontë Parsonage Museum Shop  Church Street, Haworth, West Yorkshire BD22 8DR  01535 642323   www.bronte.org.uk/bronte-shop
The Book Case  29 Market St, Hebden Bridge, West Yorkshire HX7 6EU   01422 845353
www.bookcase.co.uk
The Edge of the World Bookshop 23 Market Jew Street, Penzance, Cornwall, TR18 2HR  01736 365607  www.edgeoftheworldbookshop.co.uk
GREY HENS AT LARGE
Ann Alexander's new collection Old Things (Ward Wood) is now out. http://wardwoodpublishing.co.uk/titles-poetry-ann-alexander-old-things.htm
Jean Atkin  published Luck's Weight, a pamphlet of poems and photographs (by Andrew Fusek Peters) based on her 2014 residency at Acton Scott Farm in Shropshire. Luck's Weigh was also an exhibition which featured at Wenlock Poetry Festival. She has been both Reader in Residence at Southwater Library in Telford, and Poet in Residence for Wenlock Poetry Festival 2015.  Jean also organises The Poetry Lounge in Ludlow. https://jeanatkin.com/
R V Bailey and Stevie Krayer Now out: A speaking silence: Quaker poets of today, edited by R V Bailey and Stevie Krayer (Indigo Dreams Publishing, £9.95) Featuring numerous distinguished poets, including Grey Hen contributors Anne Cluysenaar, Ann Drysdale, Kate Foley, June Hall and Meg Peacocke. Stevie Davies: "These luminous fragments of truthful witness brought tears to my eyes as I read; they haunted, heartened and comforted me. They will do the same for you." Carole Satyamurti: "This is an exceptionally enriching anthology; fine poems embodying a distinctively Quaker spirituality, grounded in direct experience."
Denise Bennett's  second collection Parachutes Silk has been published by Oversteps Books, including her 'Hovercraft' poem  published  in Running Before The  Wind.
Pat Borthwick has a new poetry book just out – The Road I Take (Pharos Press) £10.00 – including P&P. Contact Pat Borthwick at pab@theolddairy1.freeserve.co.uk
Pat was shortlisted for Strokestown this year and asked to read with Scots poet Walter Perrie at StAnza. She will be reading at Ledbury Festival next year and running some Saturday individual mentoring sessions in York on behalf of the Poetry Society. They'll each be almost an hour long allowing close reading and constructive feedback. Anyone interested in booking a slot (you don't have to live in Yorkshire) please contact Pat at the email address above.
Carole Bromley's recent publication, A Guided Tour of the Ice House, is published by Smith/Doorstop Books, Sheffield.
Helen Burke recently judged Keats Shelley Prize in Rome. She performed at Keats Shelley House in Rome. New collection out with valley Press – called Here's Looking At You Kid.
Marianne Burton's collection She Inserts the Key (Seren) was shortlisted for the 2013 Forward Felix Dennis First Collection Prize.
Maggie Butt's Sancti Clandestini – Undercover Saints, fully illustrated collection of poems about alternative, imaginary saints, was published by Ward Wood Publications in November 2012.
Caroline Carver's Fish Eaters was published by University of Plymouth Press in October 2015, and her new pamphlet from Indigo Dreams, JU JU BABY, will be out in the Autumn, no date yet. As an outcome of Fish Eaters, Caroline has given some lectures to students at the University, and also travelled with a PowerPoint presentation The Building as a Book, which also looks at Marshal McLuhan's philosophies.  Caroline is poet-in-residence Marine Institute, Plymouth University  www.poetrypf.co.uk/carolinecarverpage.shtml
Anne Clarke was a prizewinner in the 2013 Troubadour International Poetry Competition. She also won 1st prize in the Second Light competition (Long Poem category 2013).
Rose Cook's new collection Notes from a Bright Field is now out  from Cultured Llama £8.00. http://www.culturedllama.co.uk
Doris Corti  was commended in the Elizabeth Longford poetry competition (run by Society of Women Writers & Journalists). Acumen used one of her poems called 'Colours of the Wind' on the internet as their 'poem of the month'. She judged the NAWG Open poetry competition and the poetry competition for the Society of Women Writers & Journalists.
Julia Deakin is aiming to finish her 3rd collection by Christmas.  She won 3rd Prize in the Bridport, was Highly Commended in The Troubadour and The Plough, and Commended in York Mix.  www.juliadeakin.co.uk.
Ann Drysdale will have a new collection out later this year with Shoestring Press.
Hilary Elfick's and David Head's On the Edge was published by PPP. Her Australian Bush series with the photographer David Malikoff is nearing completion, and her poem Hulotte appeared in the (sadly) final edition of THE SHOp magazine of poetry.
Angela France's new collection Hide (2013) details from http://www.ninearchespress.com/hide.html
Katherine Gallagher  tutored a residential Workshop 'The Faces of Memory' at Le Moulin, Villebaudon, Normandy.
Geraldine Green co-tutored at Brantwood with Penelope Shuttle in June and Pippa Little, plus a residential at Jane's farm in September. geraldinegreen.poetry1@gmail.com
Geraldine read from her latest collections The Other Side of the Bridge and Salt Road  on her poetry trip to N. America in August 2015. She's currently working on a collection called Cinder Track.
http://geraldinegreensaltroad.blogspot.co.uk/2014/11/workshops-and-readings-2015.html
Read an interview with her here:
https://artforhappiness.wordpress.com/2014/12/11/interview-with-a-cumbrian-poet/
Mavis Gulliver has had two poems published in the Romanian magazine Orizont Literar Contemporan  Contemporary Literary Horizon in 2013, in English with Romanian translations.
Jo Haslam has had two poems published in PN Review and was joint winner of the Straid collection- published by Templar in 2013
Diana Hendry  is currently co-editor (with Gerry Cambridge) of New Writing Scotland, an anthology now in its 33rd year and has just finished a children's book (part one of a two book contract). She is also involved in a creative ageing project with the Scottish Poetry Library.
 Maria Jastrzębska, winner of the 2014 Grey Hen competition, has work published in Poetry Wales – translations of Polish poet Justyna Bargielska, as well as her own in Long Poem magazine, and in Cardinal Points journal launched in Minneapolis, USA.  Maria's poem which won the Grey Hen competition is being translated into Polish.
Bernie Kenny's new book  These Are My Days is coming out in March.
Angela Kirby's latest collection, A Scent of Winter, Shoestring Press, 2013, has been reprinted and is still available online or from Central Books.
Pauline Kirk as Editor of Fighting Cock Press collaborated with Stairwell Books and Graft Poetry in two joint publications: A Prairie Journal'by Rita Jerramand Fifty:Fifty, an anthology of poems to celebrate the fiftieth anniversary of the Pennine Poets.  Colin Speakman's People in a Landscape is due out soon, and Pauline is working on another collection by Alan Gillott.
Pauline's poems have appeared in Pennine Platform, The Poetry Church, Quantum Leap' Fifty:Fifty' (Graft/Fighting Cock), Extraordinary Forms (Grey Hen Press) and Half Moon: Poems about Pubs (OWF Press – due Oct 16).  She is on the Editorial Board of 'Dream Catcher' magazine and a member of the Exhibitionists performance group (York).
Writing as PJ Quinn (with daughter Jo Summers) – all published by Stairwell Books: The 'DI Ambrose Mysteries':  'Foul Play', 2011 [available as e-book]; 'Poison Pen' 2012 [e-book], 'Close Disharmony' 2014 and soon a fourth, 'Poetic Justice'. 'Foul Play' and 'Poison Pen' are now available as e-books.  'Border 7′ was published under her own name by Stairwell Books in 2015. Later this year (2016) an edition of war-time letters by her uncle,a RAF 'back-room boy' in the Middle East and East Africa, is planned by Stairwell.
Pauline was interviewed by students from Leeds Trinity and York Universities – see  https://www.youtube.com/watch?v=Y5dN_TlZl2s
Wendy Klein won 1st prize in the Buxton (Summer 2014); 1st Prize in the Havant (Autumn 2014); 1st Prize in the Cannon Poets' Sonnet or Not (December 2014); 1st prize in the Cinnamon Press Single Poem Competition (January 2015) – this poem available on http://www.wendyklein.co.uk/Tracking_the_Wolf.html
Stevie Krayer's third collection is now published: New Monkey (Indigo Dreams Publishing). Details and sample poems at http://www.indigodreamsbookshop.com/#/stevie-krayer/4585439568 
Gill Learner came second in the Torriano Poetry Compeition 2016 judged by Ann Drysdale. Her second collection Chill Factor has been published by Two Rivers Press.
Janet Loverseed has a poem in the anthology Best of Manchester Poets, Vol. 3, published by Puppywolf.
Gill McEvoy's  pamphlet The First Telling from Happenstance Press,  which deals with the aftermath of rape, was published Dec 2014.  She is featured  in Caboodle a collection from Prole Books. In 2014 Gill had poems published in The Rialto, Acumen, Envoi, The Interpreter's House, The Journal, The Frogmore Papers, and on ink sweat and tears.
Rosemary McLeish had several poems displayed in the 'Dare to Wear' exhibition at the Crypt Gallery in Euston Road, London during October. 'They were sewn onto clothing – a nightdress, a bra, t-shirts and an apron. The apron and one of the t-shirts sold and I had commissions to make four more aprons and one of the t-shirts.'
Alison Mace has won the 2016 Second Light Long Poem prize with her 5 linked sonnets.
Char March's has been placed second in the non-fiction category for the Watermarks competition, and first place this month in the 'Remember Oluwale' poetry competition (judged by Ian Duhig). She will have poems published in the next two issues of Lallans and Zoomorphic magazines.
Gerda Mayer A small collection of poems translated by Odveig Klyve, Alle blad har mist sitt tre (All the leaves have lost their trees), was published in Norway by the Nordsjoforlage in 2013.
Paula Meehan,contributor to Running Before the Wind, is currently Ireland Professor of Poetry. This honour was established when Seamus Heaney won the Nobel Prize for Literature in 1998, and is based in University College Dublin, Queen's University Belfast and Trinity College Dublin.
Jenny Morris' poem 'Harsh Coast' was published in Poetry News. She also had two poems in the 2012 Templar anthology Octopus and two in the Norwich poetry anthology.
Katriona Naomi's pamphlet 'Hooligans' (inspired by the Suffragettes) is from Rack Press 2015.
Ruth O'Callaghan's fourth collection The Silence Unheard (Shoestring) was published in 2013.
Meg Peacocke is preparing a 'New and Selected' for the Shoestring Press and a recording for the National Poetry Archive.
Jo Peters won third prize in the Ilkley Literary  Festival Open Mic. She has a poem in The Garden (Otley Word Feast Press) and also in The Book of Love and Loss ed. R V Bailey and June Hall (Belgrave Press).
Katrina Porteous' new poetry collection from Bloodaxe, Two Countries, is now available as a book, and also as an ebook with audio: http://www.amazon.com/Two-Countries-ebook-Katrina-Porteous-ebook/dp/B00PF1L2TM     A new numbered limited-edition of Horse, Katrina's sound-poem with music by Peter Zinovieff, illustrated by Olivia Lomenech Gill, is available here:http://www.beadnell.demon.co.uk/publications/horse.html.  In 2014 Katrina reported on, and took part in, the Fisher Poets' Gathering, Astoria, Oregon, USA. You can still hear her BBC Radio 4 programme about it, produced by Julian May: http://www.bbc.co.uk/programmes/b042d57r   You can hear Katrina Porteous read her work on the Poetry Archive site: http://www.poetryarchive.org/poet/katrina-porteous
Joan Poulson's page, and recordings of 58 poems (available on CD), is now up on The Children's Poetry Archive – another of her children's poems is being set to music.
Penelope Shuttle and Geraldine Green ran a residential poetry course 'MIDSUMMER POETRY' at Brantwood, Coniston, the home of John Ruskin,  June 2015 .    Penelope's  Unsent: New and Selected Poems 1980 – 2012 was published by Bloodaxe Books.
Pat Simmons' poem 'At Home' (first published by Grey Hen in Cracking On 2009) has been accepted for the anthology Heart Shoots from Indigo Dreams.
Deborah Sloan has won 2nd prize in the SaveAs Writers' International 'Bigger Picture' Competition 2014
Anne Stewart co-judged the Grey Hen Poetry Competition 2016 with Maggie Butt, and also judged the Formal Category of the Poetry on the Lake competition (Italy), 2016. Her English/Romanian collection, Only Here till Friday (Bibliotecha Universalis, Bucharest, 2015), is also now out in an English/Spanish version from the same publisher (2016).
Diane Tang's first collection, Sideways from the Shore, was published in 2012 by Oversteps .
Sheila Templeton won the James McCash Scots Language Poetry Competition 2014, with 'Mixin Mustard' a memoir of her grandfather who fought in World War 1. It featured in The Herald December 2014. It is the second time Sheila has won this prestigious competition, run jointly by Glasgow University and The Herald newspaper.
Fiona Ritchie Walker won the Felix Dennis Creative Writing Competition run by Stratford Litfest with her short story. http://www.stratfordliteraryfestival.co.uk/article/creative-writing-competition-2016  She also won the 2015 Carers UK writing competition (results announced this year) – here is a link to the poem: http://www.carersuk.org/how-you-can-help/creative-writing/2015-results/landing/5101-after-diagnosis-poem
Christine Webb has a poem in Otley Word Feast's little anthology The Garden.
Susan Wood won 2nd prize in the Basil Bunting Poetry Competion 2013.